Introduction
This article is part of a series discussing how to build a retirement portfolio using business development companies ("BDCs") currently yielding over 12% and their safer notes – baby bonds/preferred shares with yield-to-maturities ranging from 6.5% to 10.0%.

The previous article discussed Fidus Investment (FDUS) that I recently purchased at $9.30 (40% discount to book value) for the reasons discussed in:
FDUS already is up 13% since my purchase as I timed the entry using a relative strength index of ("RSI") of close to 30 before making purchases which also is discussed in the article.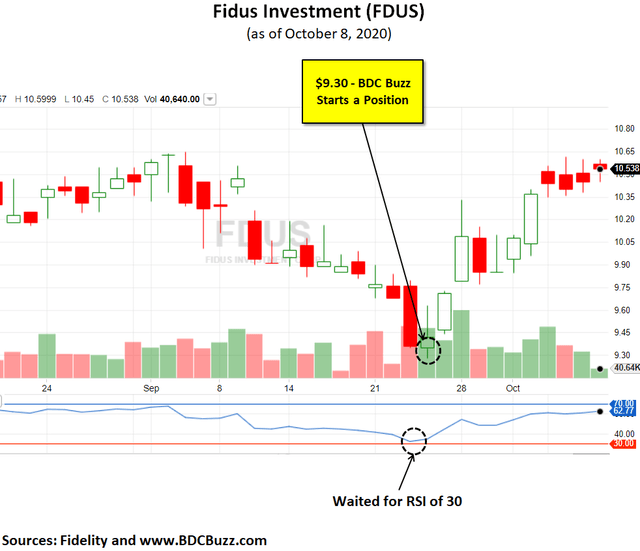 ---

BDC Buzz Buys More ARCC
I currently have 16 BDC positions including Ares Capital (ARCC) which I continue to purchase additional shares of as I believe that this is one of the "higher quality" BDCs. I recently purchased additional shares of ARCC for many reasons discussed in this article as well as its RSI of close to 30 before buying. As shown below, the stock price is up more than 9% since my recent purchase at $13.20. So, ARCC was finally a "Buy." Did you miss it? Please see the end of this article for my opinion.
Also, I purchased additional shares of ARCC and its Baby Bond AFC during the recent dip in March 2020 as I believe they are a good balance for overall portfolio diversification. I will discuss the pricing and quality of these investments in another article.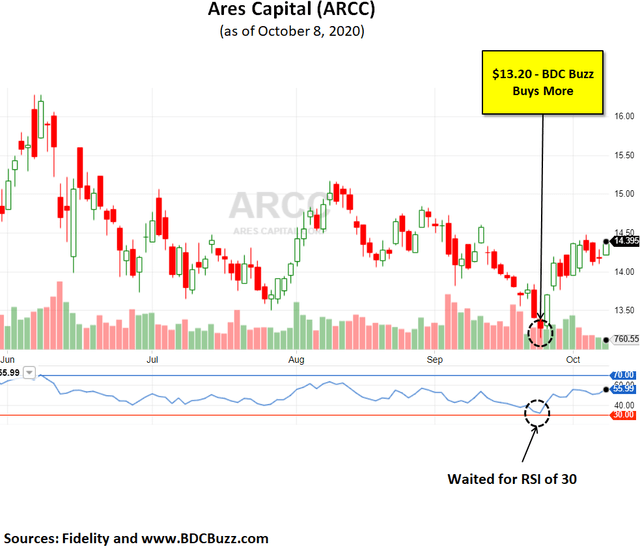 The following chart is for its Baby Bond Note due 2024 showing it trading above par ($25) and I would not recommend buying at these prices due to the potential for loss of capital if management ever decided to redeem. However, as shown later this is a very small portion of their balance sheet and management likes to tout having a "diversified capital structure."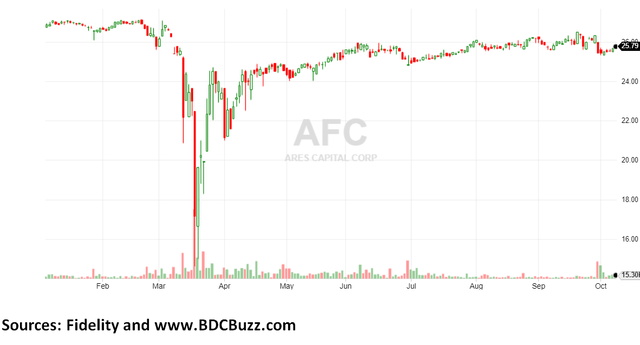 ---
ARCC Previously Announced Dividends
The Board declared a third quarter dividend of $0.40 per share paid on Sept. 30, 2020, to stockholders of record as of Sept. 15, 2020.
I want to discuss our undistributed taxable income and our dividend. We currently estimate that our spillover income was $408 million or $0.96 per share at the end of 2019. As we've said many times in the past, we believe having a strong and meaningful level of undistributed spillover supports our goal of maintaining a starting dividend through varying market conditions."
Source: ARCC Earnings Call

Source: Fidelity
The following table shows the current annual dividends divided by NAV per share as a simple proxy for return on equity ("ROE") to shareholders. However, a proper ROE assessment would include capital gains/losses which I will cover in upcoming articles. Also, it's important to remember that many BDCs are trading below NAV (including ARCC) implying higher return percent for investors that purchase at the right price. For example, my purchase of FDUS at $9.30 would return 13% annually if there was no change in the amount of dividends paid which was discussed in the article linked above.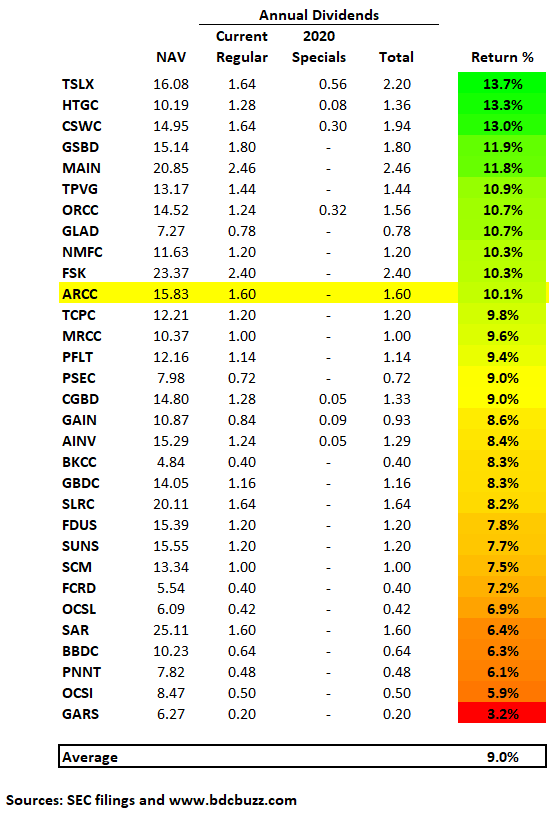 ---
ARCC Issues Additional $400 Million 3.875% Unsecured Notes Due 2026
I recently updated the projected dividend coverage for ARCC to take into account the following information.
On Sept. 23, 2020, ARCC issued an additional $400 million of its 3.875% unsecured notes due 2026 at a premium of 101.446% of their principal amount, resulting in estimated net proceeds, after estimated offering expenses, of approximately $402.1 million. It should be noted that issuing notes at a premium drives a lower yield to maturity of 3.569%.
This is an extremely low fixed rate for an unsecured note due 2026. Many BDCs have been issuing these notes which adds tremendous flexibility to their balance sheets, not to mention maintaining net interest margins with the potential to invest at higher rates later this year. This means that we will likely see maintained or even improved earnings over the coming quarters resulting in sustainable dividends.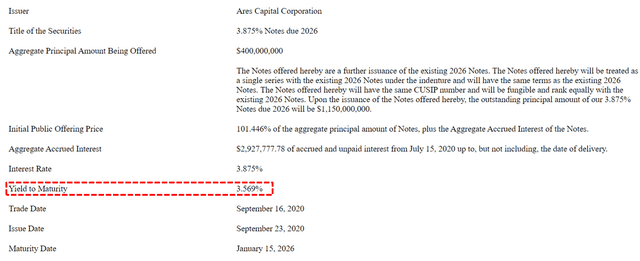 Source: SEC Filing
Included in the SEC filings related to the notes offering were the following preliminary results through Aug. 31, 2020:
Funded $274 million of new investments at a weighted average yield of 7.8%
Exited $179 billion of investments at a weighted average yield of 8.8%
Net realized gains of $9 million or around $0.02 per share
Please keep in mind that these are very small amounts of new investments compared to a portfolio of $14 billion so I'm not expecting the lower yield on new investments to have a meaningful impact. Likely management we being very selective and as the economy improves will be able to invest at higher yields which was discussed by management.
From July 1, 2020 through August 31, 2020, we made new investment commitments of approximately $401 million, of which $274 million were funded. Of these new commitments, 94% were in first lien senior secured loans, 3% were in preferred equity securities and 3% were in other equity securities. Of the approximately $401 million of new investment commitments, 87% were floating rate, 7% were fixed rate and 6% were non-interest bearing. The weighted average yield of debt and other income producing securities funded during the period at amortized cost was 7.8%. We may seek to sell all or a portion of these new investment commitments, although there can be no assurance that we will be able to do so.

From July 1, 2020 through August 31, 2020, we exited approximately $179 million of investment commitments. Of the total investment commitments, 28% were first lien senior secured loans, 69% were second lien senior secured loans and 3% were subordinated certificates of the SDLP. Of the approximately $179 million of exited investment commitments, 100% were floating rate. The weighted average yield of debt and other income producing securities exited or repaid during the period at amortized cost was 9.0% and the weighted average yield on total investments exited or repaid during the period at amortized cost was 8.8%. On the approximately $179 million of investment commitments exited from July 1, 2020 through Aug. 31, 2020, we recognized total net realized gains of approximately $9 million.

In addition, as of Aug. 31, 2020, we had an investment backlog and pipeline of approximately $525 million and $100 million, respectively. Investment backlog includes transactions approved by our investment adviser's investment committee and/or for which a formal mandate, letter of intent or a signed commitment have been issued, and therefore we believe are likely to close.

As of Aug. 31, 2020, our total consolidated indebtedness was approximately $7.4 billion principal amount, of which approximately $1.1 billion was secured indebtedness at the Ares Capital level and of which an aggregate of approximately $1.0 billion was indebtedness of our subsidiaries.

After giving effect to the issuance of the Notes and assuming the proceeds therefrom are used to repay outstanding borrowings under our $3.617 billion revolving credit facility (the "Revolving Credit Facility"), the $1.525 billion revolving funding facility of our consolidated subsidiary Ares Capital CP Funding LLC ("Ares Capital CP") (the "Revolving Funding Facility"), the $725 million revolving funding facility of our consolidated subsidiary, Ares Capital JB Funding LLC ("ACJB LLC") (the "SMBC Funding Facility"), and/or the $300 million BNP Funding Facility (together with the Revolving Credit Facility, the Revolving Funding Facility and the SMBC Funding Facility, the "Facilities"), our total consolidated indebtedness would have been approximately $7.4 billion principal amount as of August 31, 2020.
Source: SEC Filing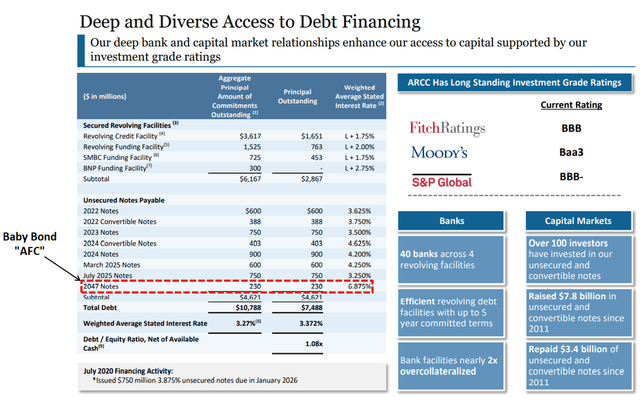 Source: ARCC Earnings Presentation
As discussed in "BDC Buzz: An Author With A Sustainable Dividend Approach," BDCs have permanent equity capital which means that:
There are no "runs on the bank" or forced liquidations during volatile markets. BDCs can hold investments until maturity waiting out market volatility and then opportunistically reinvest the proceeds, likely at higher yields at some point. This is considered a positive for their borrowers which are willing to pay higher rates for more of a longer-term "partnership" approach often with equity participation upside for the BDC investor.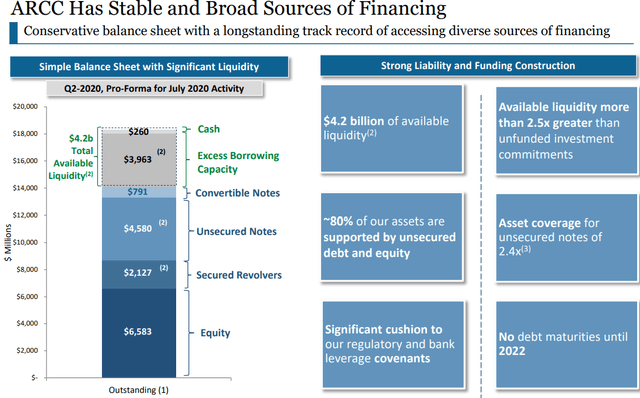 Source: ARCC Earnings Presentation
---
ARCC June 30, 2020 Results
For Q2 2020, ARCC reported just below my best-case projections mostly due to higher-than-expected dividend and fee income covering its regular dividend by 101%. Its portfolio yield declined as expected (from 8.5% to 8.3%) due to onboarding investments at lower yields. As predicted, its NAV per share increased and debt-to-equity declined from 1.26 to 1.12. As mentioned earlier there is a good chance that the company will be able to invest at higher yields over the coming quarters.
Kipp deVeer, CEO: "Despite the difficulty our economy is experiencing from the global pandemic, we delivered strong second quarter core and GAAP earnings with growth in our net asset value. Our portfolio of primarily defensive, high quality, upper middle market companies remains well positioned, and we believe that the broad capabilities of our team and our available liquidity will enable us to capitalize on the improving market environment for new investments."
Source: ARCC Earnings Release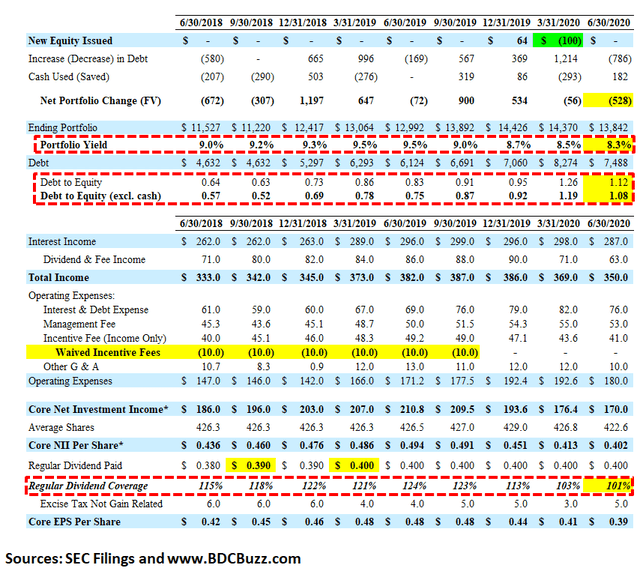 ---
ARCC's net asset value ("NAV") per share increased by $0.25 or 1.6% (from $15.58 to $15.83) mostly due to unrealized gains including its Senior Direct Lending Program ("SDLP"), Singer Sewing Company and Murchison Oil and Gas. However, there were additional markdowns for Garden Fresh Restaurant and Production Resource Group that were added to non-accrual status during Q1 2020.
The net unrealized gains primarily reflect some tightening of credit spreads relative to the end of the first quarter of 2020, offset by increased unrealized depreciation for certain investments, including from the continued impact of the COVID-19 pandemic."
Source: ARCC Earnings Call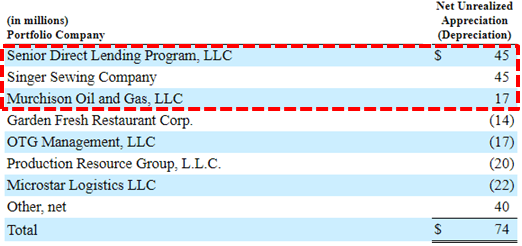 Source: SEC Filing
Management discussed Singer Sewing Company on the recent call:
Q. "On Singer Sewing. It's a sizable investment, and you did reference a positive recovery outcome for shareholders indirectly in your prepared remarks. So the term loan is now marked at a healthy premium to cost. So does that fair value reflect the receipt of any material fees that could hit the income statement? And then an expectation that it could be prepaid?"

A. "So we typically don't talk too much about a single portfolio company, but this maybe deserves a couple of seconds. So this is a company that we – that had struggled, people probably know it then excelling machines. And was private equity owned, and we now own the company, didn't choose to, but sort of had 2, and that's a couple of years back. And look, this is testament to the portfolio management team. We've gone in. We've literally reengineered the entire business running it in terms of its board, its management team, its strategy and all of that. And the markup is simply reflection of the profits are up, and we think the value is higher than it was last quarter. And we think the prospects for the business are much, much better. So this is just going in and doing what we actually tell people that we do, which is roll up our sleeves and get involved in the underperformers and create value. So hopefully, we're on a path down the line to a realization, but I don't think there's anything happening tomorrow."
Source: ARCC Earnings Call
Also, OTG Management is an airport restaurant operator that remains on accrual status but continues to be marked down currently at 80% of cost and accounts for around 1.3% of the portfolio and $0.41 per share of NAV.
Source: SEC Filing
As expected, non-accrual investments increased from 1.7% to 2.6% of fair value and 4.4% of cost due to adding Teligent, CPV Maryland, and JDC Healthcare Management with the weighted average grade of the investments in the portfolio at fair value remains around 2.9.
Beginning in the first quarter and continuing into the second quarter of 2020, Ares Capital's operating results, as well as the fair value and performance of its portfolio, have been negatively impacted by the novel coronavirus ("COVID-19") pandemic, which has caused severe disruptions in the global economy. As of June 30, 2020, the net unrealized depreciation on Ares Capital's investment portfolio was $1.0 billion. As of June 30, 2020 and December 31, 2019, the weighted average grade of the portfolio at fair value was 2.9 and 3.0, respectively, and loans on non-accrual status represented 4.4% of total investments at amortized cost (or 2.6% at fair value) and 1.9% at amortized cost (or 0.9% at fair value), respectively."

"During the second quarter, we added 3 new companies through our nonaccrual list with which increased nonaccruals to 4.4% at cost and 2.6% at fair value as compared to 3.1% at cost and 1.7% at fair value last quarter. It is important to note our differentiated approach to managing nonaccrual assets. Some managers are quick to exit their nonaccrual loans early by realizing losses and reporting lower nonaccrual rates. We typically take a different approach, which we believe allows us to achieve better recoveries."

"Non-accruing loans and portfolio grades trended modestly negative during the quarter, which is consistent with broader market credit trends and is not a surprise given the magnitude of the economic disruption in the second quarter. The recovery in the economy and those most impacted portfolio companies will certainly take time. However, we feel confident that we have the tools required to achieve good outcomes."
Source: ARCC Earnings Call
Please note that ARCC has a very large portfolio with investments in 352 companies valued at almost $14 billion so there will always be a certain amount of non-accruals.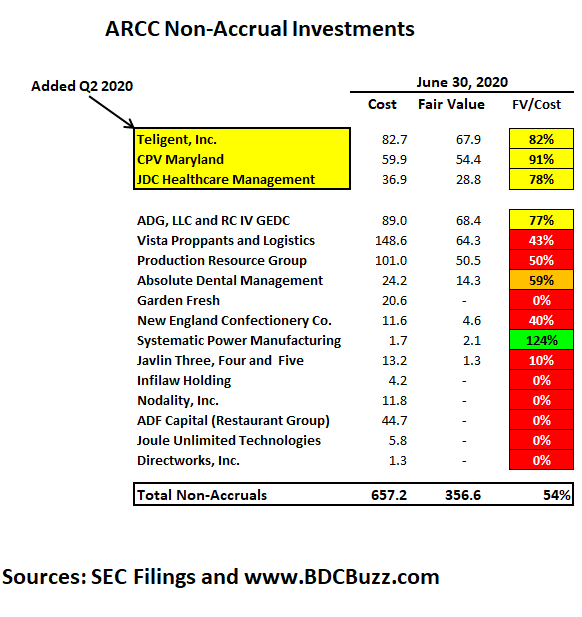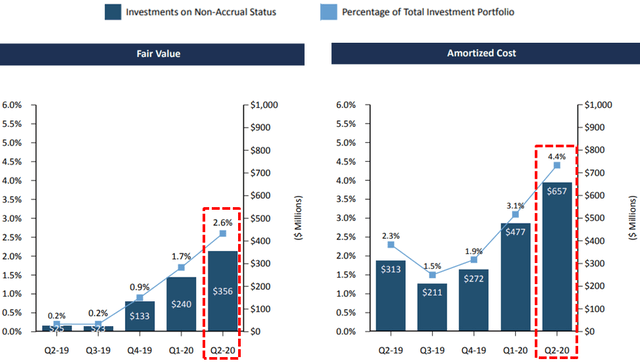 Source: ARCC Earnings Presentation
---
My primary concern is 18.8% (previously 7.8%) of the portfolio considered 'Investment Grade 2' which indicates that the "risk to our ability to recoup the initial cost basis of such investment has increased materially since origination or acquisition, including as a result of factors such as declining performance and non-compliance with debt covenants; however, payments are generally not more than 120 days past due". However, its is important to keep mind that ARCC has higher quality management and takes a conservative approach to assess its portfolio.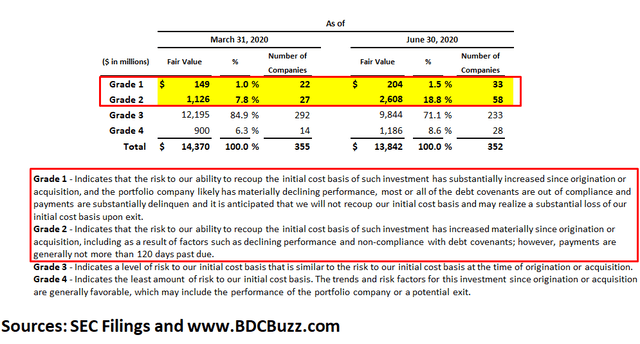 This was discussed on the recent call below and please see the "ARCC Management Portfolio Update Discussion (August 4, 2020)" section of this article for additional details:
Based on our current assessment of the portfolio, approximately 80% of our portfolio at fair value is performing roughly in line with or above our original underwriting expectation, and about 20% of the portfolio is performing below our original underwriting expectations. This 20% segment of the portfolio who sees either a Grade 1 or Grade 2 using our rating system. The increase in the grade 2 investments this quarter is largely a result of the COVID-19 situation. It is not a surprise to see an uptick in underperforming names due to the unusual and broad impact this pandemic has had on all businesses, and we are seeing strong equity support for the subset of our portfolio that is more impacted by COVID-19. Furthermore, as we have demonstrated in the past, we have an experienced and cycle tested team with a strong track record of working through issues with underperforming portfolio companies."

Q. "So first one to drill down a little more maybe into that 20% of the portfolio that's performing below expectations. Can you comment on if you've seen maybe a decline in trends just in July with the outbreaks and cases and how that fares maybe towards versus May and June?"

A. "I wouldn't say that it's materially different, right? Again, the point that I made on book value deterioration in Q1 versus Q2, I think, was trying to highlight that we thought things actually did improve with partial reopenings. Obviously, there have been some setbacks, but we haven't seen anything materially different in the last — the companies that are having this COVID issue. We're very close to or daily or weekly conversations with management teams and owners. I wouldn't say there's a change in July versus, call it, the middle of May. It feels about the same."

"We collected 98% of contractual interest due and witnessed a significant decline in outstanding revolver borrowings to our portfolio of companies indicating that the liquidity of a number of our borrowers has improved. Specifically, as it relates to our portfolio grades at the end of the second quarter, the weighted average grade of our investment portfolio at fair value was 2. 9, a slight decrease from the 3. 0 weighted average grade in the prior quarter. This modest aggregate change reflects an increase in Grade 2 rated names as the performance of certain companies have deviated from our original underwriting expectations, primarily due to the economic impact of COVID-19. Overall, we believe the companies will recover during more certain and predictable economic times, and we take comfort that the owners and management teams of these businesses agree. A significant number of these underperforming companies have already received additional sponsor equity capital injections that are subordinated to our loan positions, which we believe validates the long-term enterprise value of these companies beyond these challenging times. In situations where we have been asked to be part of a near-term solution portfolio of companies, we've executed amendments to address covenant breaches and liquidity needs."

"As a general matter, we've provided short-term concessions measured in months or quarters rather than years, and we have often been able to get some combination of enhanced pricing, improved terms, and tighter documents along with the sponsor equity."
Source: ARCC Earnings Call
In February 2020, ARCC's Board authorized an amendment to its $500 million stock repurchase program to extend the expiration date of the program to Feb. 15, 2021. In March 2020, ARCC repurchased 8.5 million shares for $100 million or $11.83 per share which is a ~32% discount to the previous quarter NAV leaving approximately $393 million available for additional repurchases under the program. The company did not repurchase additional shares during Q2 2020. In November 2019, ARCC established an "at the market" equity offering distribution agreements to sell up to $500 million of common shares similar to other BDCs. During Q2 2020, the company did not issue any shares.
During Q2 2020, ARCC made $867 million in new investment commitments, of which $741 million were funded, 69% were in first lien senior secured loans, 7% were in second-lien secured loans, 18% were in senior subordinated loans, 3% were in other equity securities and 3% were in preferred equity securities. ARCC exited $1.5 billion of investment commitments, 92% were first lien senior secured loans, 3% were second lien senior secured loans, 3% were senior subordinated loans and 2% were other equity securities. Of the approximately $1.5 billion of exited investment commitments, 94% were floating rate, 3% were fixed-rate and 3% were non-income producing. As shown below, the company remains primarily invested in first and second-lien loans.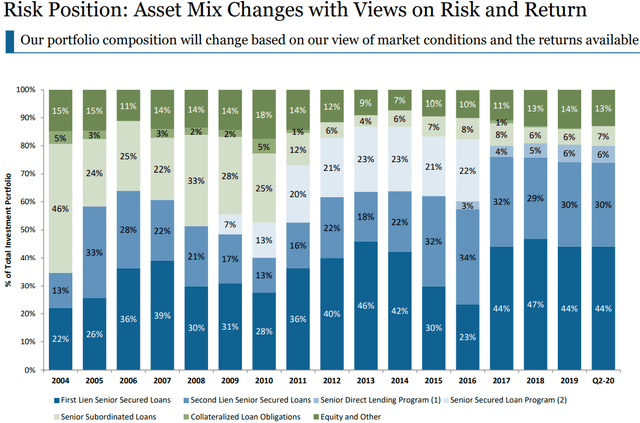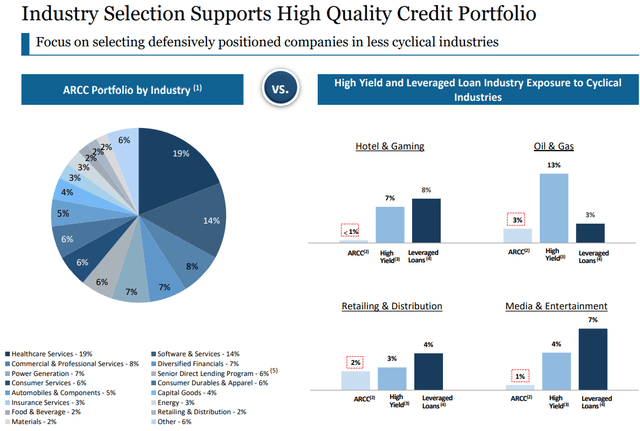 Source: ARCC Earnings Presentation
---
ARCC Management Portfolio Update Discussion (August 4, 2020):
Q. "In terms of where you think the nonaccruals is going to go maybe for the back half of the year. How does additional government stimulus and support either fiscal or monetary factor into kind of your expectations of how maybe additional concessions, how the portfolio companies are going to do, how does that kind of factor into your thinking?"

A. "Yes. I mean, it factors in a bit. Obviously, when we looked at things like PPP, which helped some of the non-sponsored companies with government stimulus or the CARES Act that's had some impact on a few companies. But for the most part, a lot of this has been oriented to the public markets and our companies investing in private companies, right? So there's no it's very difficult for the fed to have an impact on driving consumer traffic in a mall, right, or getting people to go buy things in retail stores. Okay. So it's helpful, but I think there is this bit of a disconnect where the market seem to feel that the Fed can fix everything. And I don't think that's quite the case for most private companies that obviously have seen their business models in certain industries disrupted, and we're just going to have to unfortunately get the virus and the health crisis under control before things will return to normal. And I think that's more of a health and human interaction issue than it is a Fed issue. But look, any help from the Fed is helpful and stabilization in market, certainly, which we saw the retracement during Q2, it helped our book value, right? We saw some mark-to-market increases, purely on the backs of the loan and the high-yield market being stronger. So I guess that's – it's a nice to have. But I think there are other issues out there that are not really issues that the Fed can handle head off."

"Our proactive portfolio management approach enables us to be very patient, allowing us to seek the most favorable outcomes to maximize our recovery. Much of our confidence in receiving favorable outcomes from struggling companies stems from our focus on large franchise businesses that we believe will ultimately be able to return to normal levels of profitability in a post COVID world. In addition, our position in a significant number of these situations as a lead agent for having a controlling physician in the capital structure, often provides us the ability to positively influence our outcomes. With our deep sources of liquidity and the experience and size of our team, we believe that we have an opportunity to actively engage our borrowers and execute on this position of control, providing support for these businesses through challenging times and eventually benefiting from the recovery."

"As an example, this past quarter, our total net realized gains included gains on two previously underperforming investments that were graded 1 or 2, one of which was previously on nonaccrual status. Our ability to control and manage these investments over many years allowed us to convert what could have been a significant loss into the recoupment of our entire cost basis for these original physicians. We have a strong track record with respect to exits of restructured investments where we have taken control. Specifically, more than $250 million of the nearly $1 billion of cumulative net realized gains that we've realized since our IPO in 2004 are attributable to exits from restructured portfolio companies. While it is certainly not our goal or intention at the onset of an investment to take control of a portfolio company, we believe that our significant liquidity position of over $4 billion will give us the opportunity to selectively take ownership in companies as needed at a relatively low-cost basis, support the companies with new capital and capture the potential upside through recovery."

"The second quarter gave us more visibility into the economic disruption caused by COVID-19. And with this, we've had more time to evaluate the health of our portfolio and understand how the duration of the economic recovery may affect our investments under a variety of potential scenarios. Overall, we are feeling more confident in the financial and liquidity position of our portfolio companies, despite the second quarter being a more difficult quarter for some of them. And I say all of this while acknowledging that this pandemic is creating a kind of uncertainty that we've never witnessed before. The good news is that our portfolio is highly diversified with the average investment representing just 0.3% of the total portfolio and remains weighted towards defensive sectors such as health care, software and business services."

"We're fortunate to be meaningfully underweight, many of the most impacted sectors like travel, entertainment, restaurants, retail, and oil and gas. And this was by design as we were more cautious in the new deal market over the last few years. We believe the portfolio remains a solid collection of defensive, upper middle market companies, which we believe have significant franchise value over the long haul. The weighted average EBITDA of our portfolio companies is over $140 million, and the weighted average enterprise value remains over $1 billion. Our weighted average loan-to-value for our portfolio is approximately 50% to 55%, which provides a significant capital cushion for our loan positions when we take a long-range view. These upper middle market businesses are very different from lower middle market businesses in terms of resiliency, access to capital and depth of management."

"Shifting towards our new investment opportunities, it's been very quiet on the new deal front. However, due to the size of our portfolio and our wide range of relationships, we're still finding interesting opportunities to pursue, typically with much lower risk and higher returns. Our existing portfolio provides significant built in origination advantages, and most of our new investment activity has been focused on incumbent borrowers, either providing add on financing or buying loans in the secondary market. While new transaction flow has been slow, activity is beginning to pick back up in non COVID impacted sectors, and we're seeing compelling relative value in these situations. We believe there could be a long runway of attractive investment opportunities during what we expect to be a slow recovery."
Source: ARCC Earnings Call
---
ARCC Insider Purchases
There were some meaningful insider purchases after the company reported Q2 2020 results in August. Please keep in mind that some insiders are prohibited from buying during certain windows. See Insider Buying.

Source: GuruFocus
---
Summary
As mentioned earlier, I currently have 16 BDC positions including ARCC which is my second largest position as I continue to purchase additional shares as I believe that this is one of the "higher-quality" BDCs. Over the next few months, I will have articles discussing each of my BDC positions.
One of the best times to purchase these stocks is just after they report results before other investors have a chance to digest the information. Many investors simply look at earnings or changes in NAV which often do not tell the full story. ARCC is one of the first to report in less than three weeks.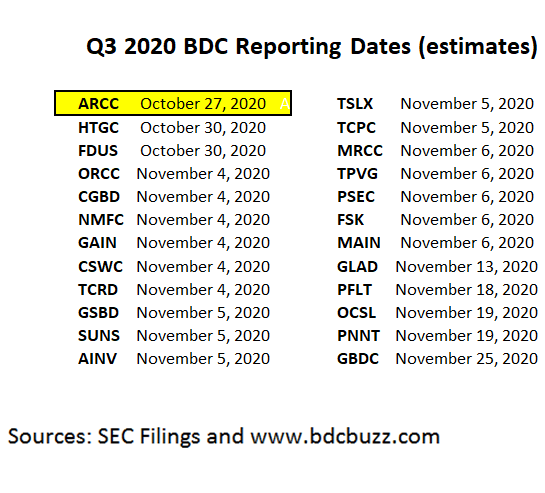 So, ARCC was finally a 'Buy'. Did you miss it?
The short answer is no especially for starter positions. As shown in the "Executive Summary" below, its RSI is around 56 implying neither "oversold" or "overbought" as discussed in the previous article. Also, the stock is still trading 9% below its NAV per share which is lower than many of the other higher quality BDCs.
The following table is a quick glance showing many of the items discussed above. Also included is the four-quarter average expense ratio of 36.5% which is the "Operating Expense as a Percentage of Available Income" as discussed in previous articles which is near the average.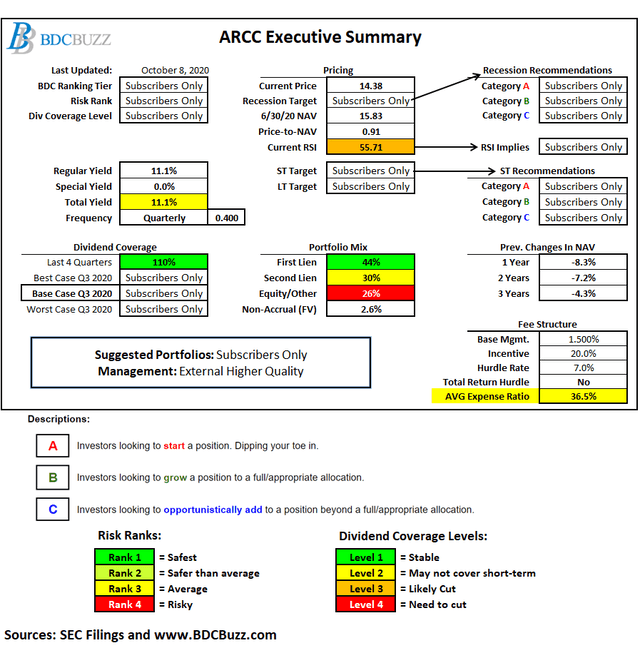 The information in this article was previously made available to subscribers of Sustainable Dividends, along with:
BDC Google Sheets with real-time charts and recommendations
ARCC target prices and buying points
ARCC dividend coverage expectations and worst-case scenarios
ARCC rankings and risk profile
Real-time changes to my personal BDC positions
Disclosure: I am/we are long ARCC, FDUS, AFC. I wrote this article myself, and it expresses my own opinions. I am not receiving compensation for it (other than from Seeking Alpha). I have no business relationship with any company whose stock is mentioned in this article.
Additional disclosure: I am long 16 BDC stock positions of which only ARCC and FDUS were discussed in this article.