Japan -0.97%. Shares of Japanese telecommunications firms were closely watched following a recent shakeup in the sector, with Nippon Telegraph and Telephone (NTT) set to take over its telecommunications unit, NTT Docomo. NTT fell 2.8% while NTT Docomo surged 20.82%.
China +0.45%. The official manufacturing Purchasing Manager's Index (PMI) rose to 51.5 in September from 51.0 in August, vs. expectations of 51.2.
The sub-index measuring production increased to 54.0 from 53.5, while total new orders rose to 52.8 from 52.0. The subindex of new export orders climbed to 50.8.
Meanwhile, a private manufacturing survey also showed manufacturing sector gaining momentum, with the Caixin/Markit PMI coming in at 53.0.
China's nonmanufacturing PMI rose to 55.9 in September from 55.2 in August.
The sub-index measuring business activity in the service sector rose to 55.2 in September from 54.3 in prior month. The construction activity stayed flat at 60.2 from the previous month.
The new-orders increased to 54.0 in September from 52.3 in August.
Hong Kong +1.18%.
Australia -1.93%.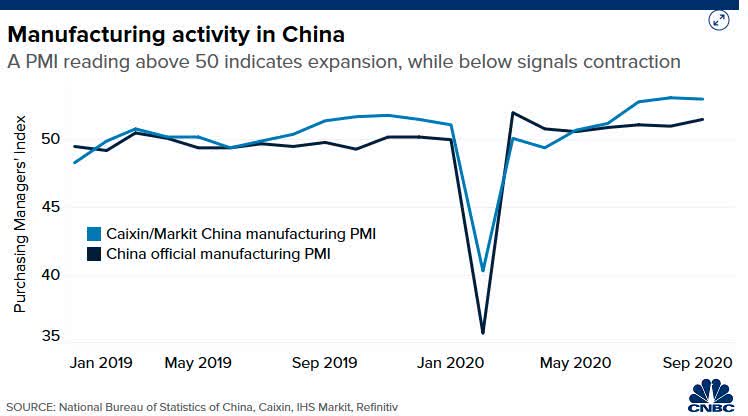 Oil prices fell more than 3% on worries about the outlook for fuel demand as Europe and the U.S. grappled with a surge in new coronavirus infections. U.S. crude fell 20 cents to $39.09/barrel. Brent crude, the international standard, gave up 25 cents to $41.31/barrel.
U.S. stock futures slipped after first election debate. Dow -0.74%; Nasdaq -0.62%; S&P -0.63%. During the debate Trump and Biden battled fiercely over Trump's leadership in the coronavirus pandemic, the economy and taxes.
Biden said in the closing stages of the debate that he would accept defeat if he lost at the ballot box, while Trump repeated, without evidence, his concerns that mail-in ballots could encourage fraud.