Welcome to the Brussels Edition, Bloomberg's daily briefing on what matters most in the heart of the European Union.
The fight over Europe's money is about to get even uglier. Hungary has already rejected a proposal to tie the disbursement of 1.8 trillion euros from the bloc's new budget and jointly-financed recovery fund to rule-of-law standards. It's also demanding that the EU official charged with upholding those norms be sacked for calling the country a "sick democracy." To add fuel to the fire, the Commission will today release a damning report about judicial independence. The document alleges that "prosecution of high-level corruption" is "very limited" in Hungary, further exacerbating fears among richer governments that they risk bankrolling Viktor Orban's cronies. If there's no solution to the spat, the threat of delays in the flow of much-needed EU funds to countries such as Italy and Greece will become very real. Unless someone is bluffing.
— Stephanie Bodoni and Alexander Weber
What's Happening
Carbon Bill | European companies are scurrying to sort out how to pay for the region's ambitious climate goals. More-advanced technologies are expensive, and the prices of permits to emit greenhouse gases are nearing record highs just as the global economy shrivels because of the Covid-19 pandemic.
Brexit Moves | The U.K. sought to unblock stalled trade negotiations with the EU by submitting a new round of proposals on state aid rules. While one diplomat in Brussels said insufficient progress has been made for the talks to head into the intense phase — known as a tunnel — at the end of this week, the Irish are upbeat about a deal. Meanwhile, a vote at the House of Lords could complicate an already chaotic situation.
Merkel's Foe | Chancellor Angela Merkel's long-time political adversary is working the phones these days, and the effort could shape the future of Germany. A party crisis has handed Friedrich Merz a third chance to realize his ambition of leading Europe's largest economy, and he's determined not to let it go.
Tracking Covid | The EU's effort to make Covid-19 contact-tracing apps work seamlessly across borders is making headway. Following a successful pilot test this month, national apps will connect to the EU's gateway server in October, allowing authorities to better contain the virus when people travel internationally.
China Rebalancing | EU leaders will on Thursday call for an economic "rebalancing" with China and greater reciprocity between the two sides, part of a rethink by Brussels over how to engage with the world's second-largest economy. They will also urge sanctions against Belarus "within days" — that's all according to a draft of the summit's conclusions seen by Bloomberg.
In Case You Missed It
Macron's Promise | Emmanuel Macron met the leader of the opposition in Belarus and promised to help mediate an end to the country's political crisis. The U.K., meanwhile, imposed sanctions on Alexander Lukashenko, his son and senior figures in the Belarus government in a coordinated move with Canada.
Better Offer | Google offered an improved package of concessions to avoid shutting out rival fitness trackers and apps in a bid to clinch EU approval for its $2.1 billion takeover of Fitbit. If feedback from competitors and customers is positive, the Commission could approve the deal before a Dec. 23 deadline.
Boeing Ruling | The World Trade Organization said the EU can impose tariffs on as much as $4 billion of U.S. exports annually in retaliation for government aid to Boeing deemed illegal under international rules, Reuters reported. By awarding so much less to the EU than the U.S. won, the ruling gives Washington the leverage in any negotiations to resolve the case.
Spanish Aid | The government in Madrid reached a last-minute deal to extend its furlough program after weeks of negotiations left businesses and workers on edge. Prime Minister Pedro Sanchez's administration is the latest in Europe to extend such aid to prevent a spike in unemployment amid a fresh increase in coronavirus infections.
Italian Deficit | Italy plans to bring its budget deficit back into line with EU rules in 2023 after a dramatic increase in spending set off by the coronavirus outbreak. The plan to gradually rein in outlays will be presented by Finance Minister Roberto Gualtieri at a cabinet meeting today.
Chart of the Day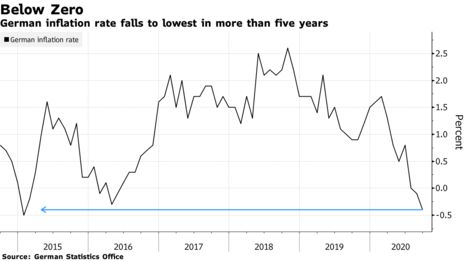 Economic confidence in the euro area improved for a fifth month, albeit at a slower pace, as resurgent virus infections cast uncertainty over the outlook. A European Commission sentiment index rose more than expected in September, yet confidence remains more than 30% below its pre-crisis level and evidence is building that the steep rebound following the end of lockdowns has started to level off.
Today's Agenda
All times CET.
8 a.m. Informal meeting of EU environment ministers
9 a.m. German Chancellor Merkel delivers a speech to a lower house of parliament budget debate in Berlin
EU tech chief Vestager participates via videoconference call in the Politico Artificial Intelligence Summit
European Commission unveils Annual Rule of Law Report, Communication on the Future of Research and Innovation
Like the Brussels Edition?
Don't keep it to yourself. Colleagues and friends can sign up here. We also publish the Brexit Bulletin, a daily briefing on the latest on the U.K.'s departure from the EU. 
For even more: Subscribe to Bloomberg All Access for full global news coverage and two in-depth daily newsletters, The Bloomberg Open and The Bloomberg Close.
How are we doing? We want to hear what you think about this newsletter. Let our Brussels bureau chief know.
— With assistance by Natalia Drozdiak