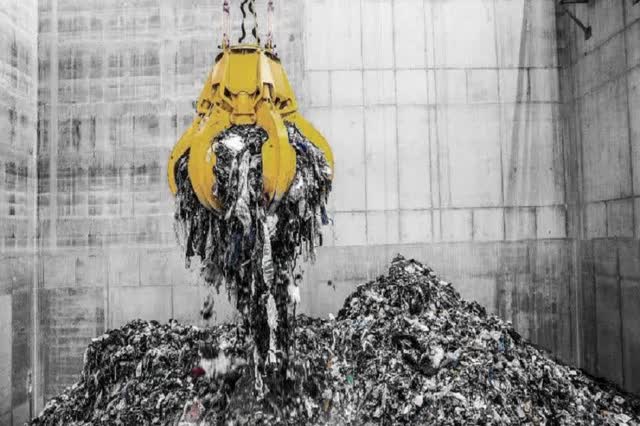 Source: Financial Times
The coronavirus brought the global economy to a practical standstill and led to a spike in unemployment. However, financial markets have recovered from their lows shortly after the pandemic initially materialized. The Dow Jones (DIA) hovers around 27,000, and is practically Y/Y. Stimulus measures from policymakers have helped provide funds to millions of Americans displaced by shelter-in-place policies. Monetary policy has also kept financial markets afloat.
GE stock is down over 30% Y/Y, lagging broader markets. After hiving off attractive assets over the years, the company has few catalysts left. Airlines are in survival mode and have sharply reduced orders for the company's commercial aircraft engines. In Q2, GE's industrial operations reported revenue of $15.9 billion, down 25% Y/Y. Power, Renewable Energy, Aviation and Healthcare each reported revenue declines. Industrial reported a segment loss of $365 million, down from a segment profit of $2.3 billion in the year-earlier period.
Power is being disrupted by alternative energy, and management is exiting the coal power market. This came after making a large investment in coal with the acquisition of Alstom's power business a few years ago. Aviation, once a catalyst, experienced a $680 million segment loss. Its $58 billion backlog is in decline, and its headwinds could continue as Moody's does not expect passenger demand to recover for a few years. GE's industrial operations are cyclical in nature and could struggle after the pandemic subsides. Servicing debt with deteriorating assets could be challenging.
GE's Credit Quality
The following chart illustrates GE's credit metrics based on its $82 billion total debt load, including GE Capital ("GECC"). The debt is down from $110 billion at year-end 2018. The reduction was driven primarily by hiving off assets, requiring GE to forgo operating income and cash flow from those divested assets. Management touts the company's debt reduction. The question remains, "Have GE's credit metrics improved?"
I previously assumed GE would use the proceeds from the Biopharma sale to pare debt, yet management may prefer to preserve liquidity at this juncture.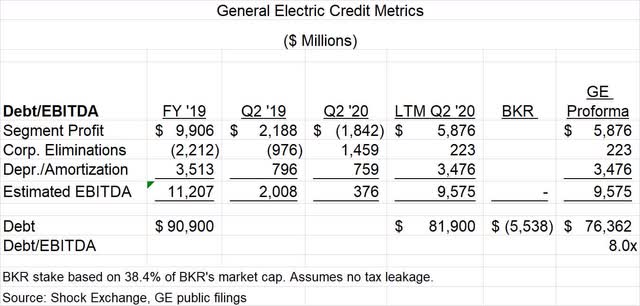 Debt/EBITDA measures total debt at the industrial operations and GECC. Management compares industrial net debt-to-EBITDA with a target of 2.5x. The target debt/equity for GECC is 4x. Management divulged it also evaluates gross debt/EBITDA, which is how I measure GE's credit quality. Given the diminution at GECC, I believe this is the metric the rating agencies and the market should use.
GE's 2019 full-year segment profits, less corporate eliminations, plus depreciation and amortization, were around $11.2 billion. I used this as a proxy for EBITDA.
EBITDA through the last 12 months ended Q2 2020 ("LTM Q2 '20") would be about $9.6 billion.
The company still has an estimated 38.4% stake in BKR. Based on BKR's current market capitalization, that stake would be worth about $5.5 billion (assumes no tax leakage).
I estimate GE's total debt/EBITDA at 8.0x, which would be considered highly indebted.
Debt/EBITDA of 8.0x times sounds pretty alarming. A metric at or above 5.0x would usually be considered below investment grade. GE's credit quality could deteriorate until the economy fully reopens. How long can the rating agencies hold off before taking another ratings action against the company?
Conclusion
GE's road to junk status is never-ending. Sell the stock.
Disclosure: I/we have no positions in any stocks mentioned, and no plans to initiate any positions within the next 72 hours. I wrote this article myself, and it expresses my own opinions. I am not receiving compensation for it (other than from Seeking Alpha). I have no business relationship with any company whose stock is mentioned in this article.