First lady Melania Trump slammed personal criticism she received about family separation at the border during a secretly recorded phone call between her and former friend and ex-East Wing adviser Stephanie Winston Wolkoff.
During the secretly recorded phone calls, which were obtained exclusively by CNN, Trump reportedly expressed her frustration about the backlash she faced over President Donald Trump's policy that led to separation of immigrant children from their families, who had illegally crossed the southern border.
"I'm working…my a** off on the Christmas stuff, that, you know, who gives a f*** about the Christmas stuff and decorations? But I need to do it, right?" Trump reportedly said during the leaked recording.
"OK, and then I do it and I say that I'm working on Christmas and planning for the Christmas and they said, 'Oh, what about the children that they were separated?' Give me a f****** break. Were they saying anything when [Barack] Obama did that? I cannot go, I was trying get the kid reunited with the mom. I didn't have a chance—needs to go through the process and through the law," the first lady added.
Newsweek subscription offers >
The policy that Trump is referring to in the recording began in 2018. The U.S. Department of Justice announced then that it had implemented a "zero tolerance" policy where all migrants that cross the border illegally would be imprisoned and their children under 18 would be turned over to the Department of Health and Human Services, which would send them to refugee camps, away from their families.
Newsweek subscription offers >
"I have put in place a 'zero tolerance' policy for illegal entry on our southwest border. If you cross this border unlawfully then we will prosecute you," former Attorney General Jeff Sessions said when announcing the new policy. "If you are smuggling a child, then we will prosecute you and that child will be separated from you, as required by law."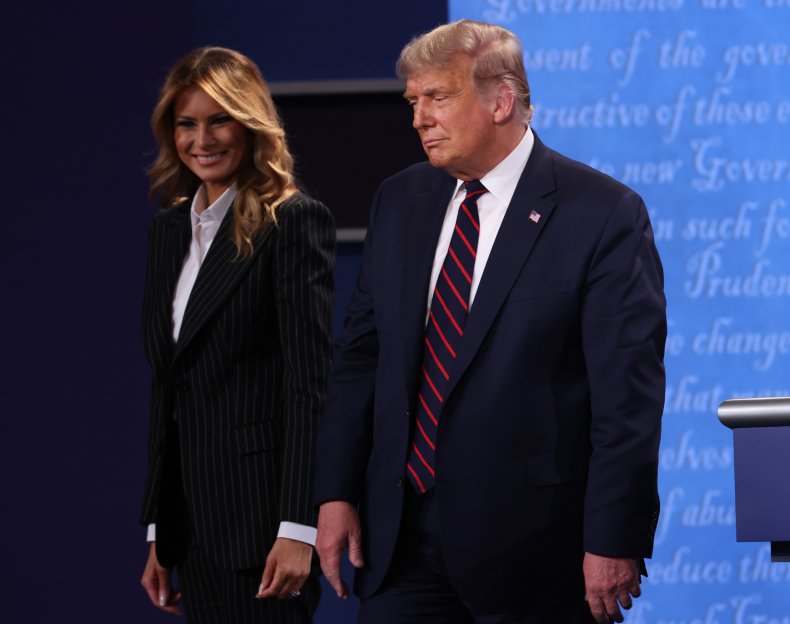 But in June 2018, Trump signed an executive order directing the Department of Homeland Security to end the separation of families and their children.
This this is not the first time the president or the first lady have suggested that Obama was also responsible for the separations.
"President Obama had separation. I'm the one that brought them together," Trump said in 2019. However, fact-checking by The New York Times shows that this is false, as former officials and immigration experts told the newspaper that the separation of families was very rare before Trump took office.
The leaked tapes were recorded by Wolkoff after she left the White House in 2018. Wolkoff also worked as a senior adviser to the first lady and published a book, Melania and Me, on September 1, detailing their relationship.
During another portion of the tapes, which were played on CNN, Trump also suggested that the children who were separated from their families appreciated their living conditions in the shelters.
"The kids, they say, 'Wow I will have my own bed? I will sleep on the bed? I will have a cabinet for my clothes?' It's so sad to hear it, but they didn't have that in their own countries. They sleep on the floor," Trump says on the tape.
"They are taken care of nicely there. But, you know, yeah, they are not with parents, it's sad. But when they come here alone or with coyotes or illegally, you know, you need to do something," she added
In a statement sent to CNN, the first lady's chief of staff, Stephanie Grisham, criticized Wolkoff for releasing the recordings.
"Secretly taping the First Lady and willfully breaking an NDA to publish a salacious book is a clear attempt at relevance," the statement said, according to CNN. "The timing of this continues to be suspect—as does this never-ending exercise in self-pity and narcissism."
Newsweek reached out to Grisham for comment but did not receive a response in time for publication.