Palantir Technology, a data analytics company known for secrecy and ties to the U.S. intelligence community, ended its first day of public trading on the New York Stock Exchange on Wednesday.
Shares of Palantir closed at $9.50 after opening at $10, reaching a valuation of around $21 billion. The company filed for the initial public offering (IPO) last month. The public debut was "mired by technical issues," according to The Wall Street Journal.
Government contracts are believed to be a major source of revenue for the company co-founded in 2003 by Peter Thiel, the tech billionaire also known as the co-founder of PayPal and an early investor in Facebook who still sits in its board of directors. It was founded with the help of "CIA seed money" and has never been profitable, according to the Associated Press.
The company's technology, which has been described as "surveillance" or "data mining," analyzes massive amounts of data from disparate sources, potentially finding hidden relationships or patterns that could be used to predict future events. Palantir itself says it makes "products for human-driven analysis of real-world data," adding that their technology is designed to "help institutions protect liberty."
Newsweek subscription offers >
Theil described Palantir as a "mission-oriented company" focused on "needing to reduce terrorism while preserving civil liberties" in a 2013 Forbes article. Co-founder and CEO Alex Karp said that the company's "software is used to target terrorists and keep soldiers safe" in a letter issued with the IPO filing.
Palantir has contracts with numerous U.S. government, military and law enforcement agencies worth hundreds of millions of dollars, while also working with some foreign governments. In addition, the company partners with major global corporations and financial firms.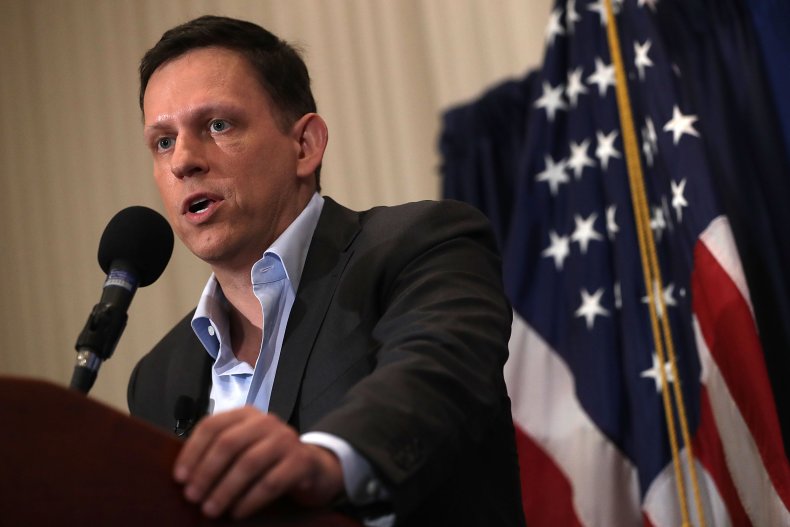 Controversy has surrounded Palantir, its technology, company culture and secrecy for years. The company was sued in 2016 for allegedly discriminating against Asian job applicants, settling for $1.7 million the following year without admitting any guilt.
Newsweek subscription offers >
The company's alleged dealings with U.S. Immigration and Customs Enforcement (ICE) have been particularly controversial. Palantir partnered with ICE to play a "key role in arresting families for deportation," according to a 2019 report from Mijente.
On Tuesday, BuzzFeed reported that the Los Angeles Police Department had taught officers to use the company's "Palantir Gotham" tool to "construct a vast database that indiscriminately lists the names, addresses, phone numbers, license plates, friendships, romances, jobs" of city residents, regardless of whether they were under any suspicion of committing a crime.
On September 17, Rep. Alexandria Ocasio-Cortez (D-N.Y.) and Rep. Jesús "Chuy" García (D-Ill.) wrote a letter to Securities and Exchange Commission Chairman Jay Clayton, urging an investigation of the company before it went public.
One of many concerns raised by the representatives was incomplete information about investments in the company from In-Q-Tel, the CIA's venture capital arm that partially funded the company when it was founded. A 2008 filing showed that In-Q-Tel owned at least 10 percent of the company, but more recent information is not available.
In addition to tech-oriented venture capitalism, Thiel is also known for involvement in conservative politics, being one of the most prominent supporters of President Donald Trump's 2016 campaign. He famously become the first person to declare that he was "proud to be gay" during a Republican National Convention in a speech supporting Trump's candidacy.
A BuzzFeed report from earlier in September claimed that Thiel "hosted a dinner with" Kevin DeAnna, "one of the most influential and vocal white nationalists in modern-day America," while campaigning for Trump in the summer of 2016. Thiel has not publicly spoken in support of the president during the current election cycle.
In 2009, Thiel wrote in a Libertarian journal that he does not "believe that freedom and democracy are compatible" because women and those on welfare are allowed to vote, while advising against political involvement and adding that "politics gets people angry, destroys relationships, and polarizes peoples' vision."
Palantir was named for fictional objects resembling crystal balls that appear in J.R.R. Tolkien's Lord of the Rings. In the fantasy classic, scenes from the future or past can be viewed using the objects, but the information provided is unreliable and often used to deceive.
Newsweek reached out to Palantir for comment.